Application for Membership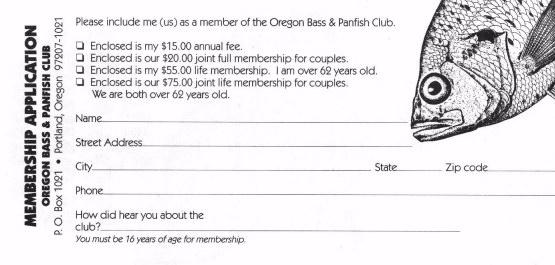 _ _ _ _ _ _ _ _ _ _ _ _ _ _ _ _ _ _ _ _ _ _ _ _ _ _ _ _ _ _ _ _ _ _ _ _ _ _ _ _ _ _
THIS COULD

BE YOUR CLUB

The Oregon Bass & Panfish Club holds meetings on the fourth Thursday of each month starting at 7:30 p.m., at the PGE Service Center, 3700 S.E. 17th Avenue, Portland, Oregon. Visitors are welcome! The club currently has more than 300 members. The club was formed in 1958 and is the largest nonprofit warmwater fishing organization in Oregon.

MEMBER ACTIVITIES


Club meetings each month have programs to help you improve your fishing know how. Drawings for tackle and prizes are held at every meeting.


A fundraiser sale is held each year and all members are encouraged to participate.


A "dry clinic" at a spring club meeting puts you with experts who will answer your questions and help you improve your angling skills.


Annual awards are presented at the February meeting for the best fish of nine (9) species in both Junior and Senior Divisions, caught in the prior year.


Minimum length awards are also presented to members who qualify.


The club sponsors a number of "fish-ins" each year. You get great camaraderie along with a fun experience.


A monthly bulletin is mailed to every member.

YOU CAN FEEL

GOOD HELPING

You can also be as active you want on club projects. You can assist with improving warmwater fishing. You can get involved with activities like building fish habitat at Blue Lake, working on better handicap access at St. Louis Ponds, developing Webster Pond and helping youth develop an appreciation for fishing and our outdoor water resource. Our most current project is Wakeena pond in the Columbia Gorge, where we have enhanced fish habitat and accessibility. Duemovich Bridge was recently completed on Sauvie Island.

YOUR MEMBERSHIP

IS REASONABLE

See the dues schedule on the application.
THE CLUB'S OBJECTIVES

To encourage and stimulate interest in angling for warmwater game fish; to perpetuate warmwater species in waters that are adaptable; to create better fishing through club efforts and cooperation with other organizations and agencies; to assist in the observation and enforcement of game laws; and to fight pollution in all the waters of Oregon.