Columbia River - May 13
Bob Judkins, Bud Hartman, and Russ Miyada traveled upriver to The Dalles for some spring bass fishing. While they caught and released several smallmouth, the fishing was not as good as it should be at this time of year. So they loaded up the boat and headed back downriver to Hood River and found the smallmouth to be much more agreeable to their lures. In all, almost 70 bass were caught and released.
Photos courtesy of Russ Miyada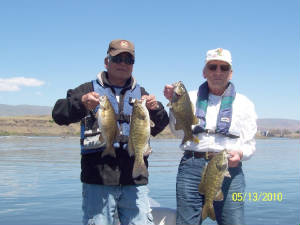 .
Prineville Reservoir - May 20-24
The Club's annual spring campout featured windy days, cold weather, poor fishing and a lot of fun. During our stay the Central Oregon Bass Club and ODFW conducted a transfer of largemouth bass from Davis Lake to Prineville Reservoir. We were asked to provide four boats with large livewells to move the bass to suitable habitat in the upper end of the reservoir. The fish were delivered to the Powderhouse Cove boat ramp by the dam, which meant some long runs by our members with some beautiful bass that ran to at least 5-6 lbs.
Photos courtesy of Russ Miyada, Hartmans & Doumitts